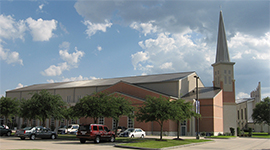 Owner: Trinity Lutheran Church

Architect: Gabriel Architects, Inc.

Construction Cost: $9.1 million

Square Footage: 42,000 sq. ft.

Completed: 2008
DESCRIPTION:

The construction included a new sanctuary with orchestra seating and a pipe organ at the elevated rear mezzanine. The space also included accommodations for a narthex, lobby, chapel, Main Street, mechanical mezzanines, and music rooms. A total of 1,480 seats are provided in the nave and 246 seats in the chapel. Main Street is a continuation of the existing corridor which connects to other facilities on the site.
CHALLENGES:

There were numerous hurdles connected to this project. One such hurdle was the coordination of the mechanical ducts with the structure in the nave, to ensure that no duct runs were impeded. Also, framing of the orchestra balcony and the structure supporting the pipe organ had to accommodate an elevation change that allowed the organ pipes to be concealed. With the various roof heights and profiles over the nave, lobby, Main Street, and chapel, careful review of the framing was required to obtain proper roof slopes and drainage while considering the connectivity of the framing members and any associated constructability issues.
CONSTRUCTION TYPE:
Structural steel and bar joists were used for the structural system at this facility. Moment frames and 'x'-braces provide the lateral stability of the structure. Composite construction was used at the mezzanines. At the chapel and Main Street, exposed laminated wood roof deck spans between exposed steel trusses. With the substantial eave height at the sanctuary, steel framing was required in the walls to reduce the clear height of wall studs, thereby allowing use of typical light gage stud sizes throughout the project