St. John Lutheran - New sanctuary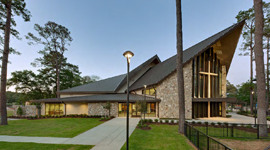 Owner: St. John Lutheran

Architect: Ziegler Cooper Architects

Square Footage: 24,000 sq. ft.

Completed: 2010
DESCRIPTION:

This new 24,000 square foot space for St. John Lutheran was designed to accommodate a nave, chancel, commons room, and other miscellaneous uses. The sloped roof and triangular shape create a striking and inspiring entrance to the common room. The use of glulam beams and tongue-and-groove decking in the nave and sacristy area allow for a large, unobstructed space and beautiful exposed structure.
CHALLENGES:

The majority of this structure was designed as a pre-engineered metal building in an attempt to save cost. The glulam specialist designed and fabricated the glulam beams. Pinnacle's major challenge for this project was to coordinate the structural interface between these two suppliers as well as design the foundation system and the elevation changes in the building floor.
CONSTRUCTION TYPE:
The structural system was a combination of steel frames (provided by the PEB supplier) and glulam beams (provided by the glulam manufacturer). The foundation system was spread footings with drilled piers at the site walls.