Christ the Redeemer Catholic Church - Sanctuary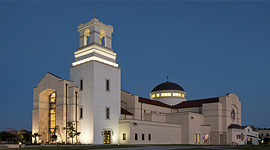 Owner: The Archdiocese of Galveston-Houston

Architect: Hall Barnum Lucchesi Architects

Construction Cost: $9.5 milliom

Square Footage: 27,000 sq. ft.

Completed: 2008
DESCRIPTION:

This project consisted of constructing a new cruciform-shaped 1,750-seat sanctuary, featuring a 40-foot diameter dome and bell tower. The framing system utilizes four intersecting steel trusses to keep the nave free of columns and support the dome overhead, while accommodating architectural arches to keep patrons' sightlines open to the roof above. In addition, the bottom chords of the trusses support low roofs over the adjacent ancillary areas. The parish's original Sanctuary, which abuts the new building, was converted to a chapel. Stained glass windows that stretch the entire vertical height of the Sanctuary, framed and supported using structural tube steel elements, were installed to allow light to pass between the new and original space.
CHALLENGES:

The four primary trusses span about 150 feet, so it was necessary to build just over 2" of camber into each of them. This presented challenges for the Fretz Construction, and their erector, in making the bolted splice connections, but with some elbow-grease all steel fit-up nicely. Also, the design of the structure was fast-tracked by the Archdiocese, so the structural steel fabricator was brought on-board during the design phase. This allowed two-way communication regarding the sizing and detailing of members during design. In addition, Pinnacle issued a steel package approximately one month before GMP documents were issued. Through our cooperative efforts with the fabricator, Fretz, and HBL, the structural steel submittals were reviewed and returned prior to mobilization, which cut four to six weeks from the original construction schedule.
CONSTRUCTION TYPE:
Structural steel is utilized as the main framing system for this facility. Four intersecting steel trusses allowed interior columns to be eliminated in the nave. At four locations within the trusses, eight individual wide-flange members were connected at a single node. Due to the integral nature of the truss geometry, shores were used during erection of the steel to allow these large trusses to be put up in segments and connected while up in the air. In addition, glulam beams and an exposed laminated wood deck are used to frame the roof. Outside of the nave, the low roof framing, which supports four roof-top mechanical units, consists of bar joists and metal deck. Lateral stability is provided by a combination of 'x'-bracing and moment frames.