Westway Park Office Building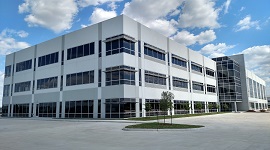 Owner: Panattoni Development Company

Architect: Powers Brown Architecture

General Contractor: Arch-Con Corporation

Square Footage: 133,000 sq. ft.

Completed: 2015
DESCRIPTION:

As part of the growing Westway Park Development on the west side of Houston, the Owner and Architect of this project sought to deliver an office building with architectural character that would draw tenants looking for modern office space at reasonable 'per square foot' lease rates. Tilt wall construction was selected as the building structure type to provide an economical solution, while allowing use of design elements such as spandrel glass allowing the design team to work outside the typical constraints of tilt wall design. The floor plan of the building was offset by the Architect into two distinct halves, which lended the building unique geometric character. A concrete deck as provided at the core area of the roof to support all mechanical equipment for the building while minimizing associated sound and vibration; and a 10-ft high steel screen wall was added to preserve the clean look of the building as one approaches the building from the nearest major thoroughfare, the West Beltway.
CHALLENGES:

At the corners of the building, the client desired to provide tenants with corner offices that had no obstructions at the corner itself. To accommodate this design intent, Pinnacle designed 'E'-panels (so-named due to their shape which resembles the capital letter 'E') that serve as horizontal cantilevers to carry floor/roof beams and deck, while leaving open sightlines for the corner offices. In addition to the design complications of these panels, special care was also taken during erection of the panels to ensure that the E-panels remainded stable during the period before the floors were fully installed to provide proper lateral support. In addition, the tilt wall panels at the southwest façade of the building were designed with special offsets to the interior which allow room for recessed spandrel glass that provides the look of continuous horizontal glazing. This design required special forming and reinforcing layout of the effected panels. Pinnacle also designed cantilevered steel parapet supports to accommodate the architect's wish of a setback glazed parapet at the building entry.
CONSTRUCTION TYPE:
The structure consists of load bearing tilt wall panels at the building perimeter with structural steel columns and beams framing the interior structure. The steel beams also support site-cast spandrel panels (similar to pre-cast panels but cast on-site to match the typical tilt wall finish) at the second and third floors adjacent to the entry of the building. The floor is a composite deck supported by wide-flange steel beams spanning 45-ft, working together as a composite system to reduce the floor vibration that is otherwise typical in longer span office buildings. The lateral forces are carried entirely by the tilt wall panels which reduced construction cost by eliminating the need for steel braces.