Baker Hughes Campus for Completions & Production Technology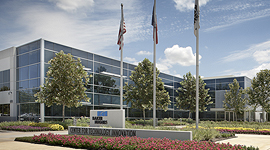 Owner: Baker Hughes

Architect: Energy Architecture

Construction Cost: $12.6 million

Square Footage: 95,000 sq. ft.

Completed: 2008
DESCRIPTION:

This project is a two-story facility on an existing campus, including space for offices and laboratories. The exterior wall at the entrance consists primarily of curtainwall. Cantilevered steel canopies were designed to screen excess sunlight. Screens are also used to shield mechanical equipment on the roof from public view. The facility was designed to blend aesthetically with neighboring structures, including those that are currently under construction.
CHALLENGES:

One of the challenges for this project was the design schedule. Permit drawings were issued eight weeks after we started work on the project. Another challenge was the framing parameters for some of the conference rooms at the second floor. Cantilevers and load transfer members, in the framing were necessary to accommodate open floor plans and achieve architectural design goals. Also, secondary framing for the canopies, particularly in the locations of the curtainwall, required special attention.
CONSTRUCTION TYPE:
The structure consists of structural steel and bar joists, with concrete tilt-wall panels at the perimeter. Composite construction was used at the second floor to reduce the depth of the structure and to provide more open space for HVAC, plumbing, and electrical systems. Curtainwall is used, in lieu of concrete panels, at the entrances to the building.