EagleBurgmann Addition & Renovation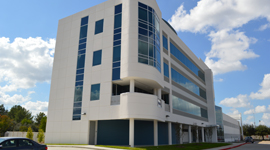 Owner: EagleBurgmann

Architect: Powers Brown Architecture

General Contractor: Cadence McShane

Square Footage: 28,000 sq. ft.

Completed: 2012
DESCRIPTION:

The creation of this 4-story office space stemmed from a blend of economics, site constraints, and architectural and structural ingenuity. Built adjacent to the existing EagleBurgmann office and warehouse space, this facility was designed to provide open office areas while utilizing a small footprint on the site. Tilt-wall construction provided an economical structural solution, while unique panel designs and the use of spandrel glass gave Powers Brown the freedom to design outside the typical constraints of tilt-wall design. Included in the design were an airy 2-story space at the lobby entrance (complete with floor to ceiling curtainwall), a cantilevered outdoor terrace at level two, and executive cantilevered office spaces at levels three and four. Because of the building's proximity to a major Houston highway interchange, we designed a finished, oval roof screen to hide the roof top unit, and those oval lines were carried all the way down through the building to the training room at the ground floor.
CHALLENGES:

One of the first 4-story tilt-wall buildings in Houston, this entire project was built using just 19 load-bearing tilt-wall panels. Only 6 of these panels would be considered 'typical'. The remaining panels were cantilevered over windows or notched and stepped to carry inset spandrel glass. The entire front facade of the building is made up of site-cast non-load-bearing spandrel panels (18 panels). The ability to cast these panels on site and erect them like typical tilt-wall panels cut cost and time out of the construction. These panels were hung off of the steel structure with a combination of gravity and lateral connections, designed to withstand Houston's hurricane-force wind loads.
CONSTRUCTION TYPE:
The structure consists of load-bearing tilt-wall panels along three sides with structural steel columns and beams supporting spandrel panels along the fourth side. The floor is a composite deck spanning 45-ft from back to front with a thickened concrete section to reduce the floor vibration typical of a long, single span office building. The lateral forces are carried by the tilt-wall panels and by a four-span moment frame along the front face of the building. The notched and stepped tilt-wall panels were designed for wind pressures, point loads from the floor beams, and eccentric loads from the panel's internal geometry. The roof is built of joists and long-span joists, designed to carry parapet wind loads on the roof screen and transfer them into the tilt-wall panels and moment frame.
*2013 Tilt-Up Construction Association (TCA) Achievement Award winner
Click
here
for the article.