Plaza Verde Buildings 1 & 2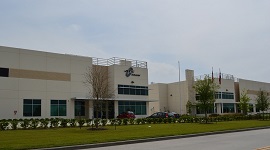 Owner: Hines

Architect: Powers Brown Architecture

Square Footage: 240,000 sq. ft.

Completed: 2015
DESCRIPTION:

This project is located in north Houston at the southwest corner of Interstate 45 and Beltway 8 in the Pinto Business Park. Plaza Verde Buildings 1 and 2 are each 120,000 square feet, rear load warehouses with a 28-ft clear height and were the first buildings to be constructed in this Hines industrial development.
CHALLENGES:

Since these were speculative buildings, it was imperative to maintain open bays throughout the structure to appeal a wide range of potential tenants. With this requirement and since the building would require an expansion joint due to its length, using the typical K-brace was not an option for the lateral interior frames as they would limit the flexibility of the space. Multiple moment frames were used for the lateral frames to limit building drift instead K-braces or knee braces. The corner entries of both of these buildings featured a 48ft tall fin wall which cantilevers both vertically and horizontally.
CONSTRUCTION TYPE:
The perimeter of the structure consists of tilt-wall panels that serve as load-bearing and lateral elements. The panel thickness was optimized to 9.25". The single slope roof structure was made up of joists and joist girders supported by HSS columns. At both ends of the truck docks at the back of the building were cast-in-place retaining walls and ramps.