Ellen Lighting Office & Warehouse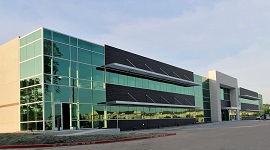 Owner: Ellen Lighting

Architect: Three Square Design Group

Square Footage: 110,000 sq. ft.

Completed: 2015
DESCRIPTION:

This office and warehouse facility for Ellen Lighting is split between 40,000 square feet of two-story office space and 70,000 square feet of warehouse space. The first floor of the office space contains an 8,000 square foot showroom and office space, while the second floor has been designated for future office build out. The warehouse portion of the building features a minimum clear height of 24-ft and a dock-high truck dock screened from the public road by tilt-up wall panels. The front elevation of the building boasts extensive curtainwall, ribbon windows, and form-lined and stained tilt-wall panels.
CHALLENGES:

The tilt wall panels at the ribbon windows were designed with recessed panel legs to allow the windows to pass in front of the panel and provide the required aesthetic. The panel thickness was minimized to maintain interior square footage, while preserving the tilt-wall standard column-free exterior. The extensive curtainwall in each corner was achieved with only one column supporting the second floor and roof, utilizing complex beam framing geometry to bear on the adjacent tilt wall panels. The front entrance was designed as a single, 50-ft long tilt wall panel, weighing almost twice the typical warehouse panels. This design was able to achieve a large, open, stone-clad entrance and lobby with minimal additional steel.
CONSTRUCTION TYPE:
A steel beam and concrete floor composite system was used at the second level office space, with steel columns, beams, and roof joist construction at the roof. The perimeter of the building is supported by concrete tilt-wall panels, varying in thickness from 7.25" to 11.25". The stone-clad entrance is supported by a combination of structural steel and tilt wall. Tilt wall panels at the truck dock were designed as cantilevered panels to create a screen wall.
*2015 Tilt-Up Construction Association (TCA) Achievement Award winner