Bueso Medical Office Building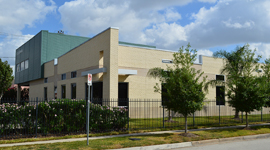 Owner: Drs. Bueso

Architect:  Powers Brown Architecture

Construction Cost:  $1.3 million

Square Footage:   8,800 sq. ft.

Completed:  2006
DESCRIPTION:

This build-to-suit healthcare project is a professional office building, intended for private practices, that is strategically located near the Medical Center. The building consists of a both a one-story and two-story office space and includes a mechanical mezzanine that is open to above.   It is primarily clad in brick masonry, with selective use of storefront features and aluminum canopies at the entries.  Architectural "wing walls" were designed at the west and south sides of the building, which required independent tube steel frames for lateral support.  The roof structure supports six roof-top units that were required for heating and cooling of the facility.


CHALLENGES: 

Both roof and floor wood truss profiles were coordinated with the MEP engineer to ensure that duct work could reach from the mechanical mezzanine well to all parts of the building. Special details were required to provide continuous lateral load paths from both the high and low roof diaphragms to the interior shear walls below. Tube steel was used extensively around the perimeter of the building to provide shelf angle support for the brick masonry façade. The steel columns were detailed at the roof level to provide adequate attachment at the wood/steel interface, which often presents a design challenge on these type of projects
CONSTRUCTION TYPE:  
The structure for this medical office building consists of a hybrid of load-bearing wood truss framing (including girder trusses) and structural steel beams and columns. Glulam beams were also employed to carry trusses over larger spans. Interior plywood shear walls were used to resist lateral forces, including hurricane wind loads. Cantilever trusses were used at the east and west sides of the building to create the building elevation setbacks that the architect desired. The foundation includes grade beams under load-bearing walls and drilled-and-under reamed piers to carry structural loads and reduce the potential for settlement and heave from the clayey soils below.