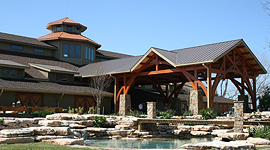 Owner:Privately owned

Architect: Don Looney Architect and Texas Timber Frames

Square Footage: 26,000 sq. ft.

Completed: 2012
DESCRIPTION:

This structure which is affectionately known by its owner as the Hemi Hideout is located near Brookshire, Texas and from the porte coche through the main barn and on to the back porch it is all framed completely with Douglas Fir heavy timbers. The apex of the dome that is located in the center of the building sits approximately fifty seven feet above the finished floor below. The open area in the main barn is 190 feet by 113 feet.
CHALLENGES:

The biggest structural challenge was the design of the connections. Timber frame structures often have member sizes that far exceed what is required structurally, but their sections are significantly reduced where they connect together. Special attention had to be given to each joint in order to ensure its structural integrity. Where the oak pegs could not meet the structural demand, steel connections had to be used but through careful detailing they are all completely hidden from view. The lateral system of the structure is made up of structural insulated panels around the exterior and four heavy timber braced frames located in the center of the structure.
CONSTRUCTION TYPE:
The entire structure is composed of heavy timber construction. Most of the timber connections are traditional tenon and mortise joinery being held in place with white oak pegs. The walls and roof are made up of structural insulated panels. The foundation of the structure is slab on grade with the columns being supported by underreamed piers, similar to how steel warehouse foundations are typically built around the Houston area.