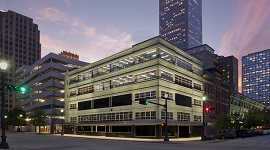 Owner: 500 Fannin, LLC

Architect: Ziegler Cooper Architects

Square Footage: 30,000 sq. ft.

Completed: 2012
DESCRIPTION:

In 1932, William Ward Watkin designed the building at 500 Fannin for the Wilson Stationery and Printing Company. The modern style for the building included significant glass on the east and north faces, in the form of well proportioned and non-uniform openings. Unfortunately, by 2010 the building had been vacant for 21 years and was in a state of disrepair. 500 Fannin LLC purchased the property with the intent to bring this corner of downtown Houston back to life with a significant historic renovation.


CHALLENGES:

As with most renovations, especially vacant ones, unexpected field conditions are the most common design challenge. Accurate documentation of the building's original design and modifications over the past 75 years was difficult to obtain. Removal of an infilled floor, which had been added and removed multiple times in the past was also challenging.
CONSTRUCTION TYPE:
The original construction was conventionally reinforced concrete beams, columns, and slabs. The renovation utilized mostly steel for canopy members and new roof members, with expansion and epoxy anchors to the existing structure.

2013 Preservation Houston Good Brick Award
AIA Design Award
2 HBJ Landmark Awards