Westfield Central Fire Station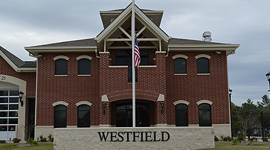 Owner: Harris County ESD #25

Architect: Slattery Tackett Architects

Construction Cost: $2.7 million

Square Footage: 18,000 sq. ft.

Completed: 2011
DESCRIPTION:

As part of the Emergency Service District's expansion, this facility provided the County capacity for four additional full-size fire engines. With a ridge height over 30 feet above finished floor, the fire station includes offices for the Fire Chief (and subordinate officers), gear storage and a training room at the ground floor. The second floor includes lockers, dorms, an exercise facility and joint kitchen/dining room. Exterior cladding consists of a combination of thin CMU and brick veneer with metal panel being utilized over low roofs and at high walls. The apparatus bays are clad with CMU veneer and have cast-in-place trench drains for washing of the fire trucks.





CHALLENGES:

The intersection of the low roof over the training room and the two-story wall of the main station created a unique framing condition. Structural steel was framed within the railing of the balcony at the second floor in order to support the low-roof ridge and prevent the addition of a column in the training space below. The combination of metal deck and Tectum planks at the roof presented detailing challenges at the interfaces, due to the significant different in their thicknesses. Also, due to the size and shape of the roof dormers it was decided that structural steel was required to frame the ridge, but light-gage elements were used to over-frame the roof and rake, which reduced cost and weight.
CONSTRUCTION TYPE:
The structural system for the fire station consists of a primary structural steel column and beam grid. The roof diaphragm is a hybrid system, using both 1.5 inch metal deck and 3.5 inch Tectum deck. Thirty-six inch deep wide-flange bent beams serve as the main frames that cross the apparatus bay and brace the building against lateral forces and limit sway of the building in high winds. Structural steel was also used to frame the station's tower and its cupola on the southeast corner of the building. The mechanical and storage mezzanines, on the west side of the apparatus bay are framed using plywood decking over light-gage steel joists.