Montgomery Central Fire Station No. 51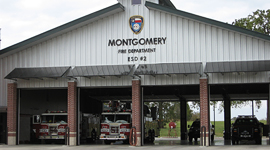 Owner: Montgomery E.S.D. No. 2

Architect: Tackett Lodholz Architects

Construction Cost: $1.8 million

Square Footage: 14,000 sq. ft.

Completed: 2006
DESCRIPTION:

Located in Montgomery County, this new fire station's apparatus bay added capacity for four more fire engines to the emergency service district's existing fleet. The facility also includes office space, dormitories, workout facilities, kitchen and a training room. Exterior cladding consists of a combination of thin CMU and brick veneer with metal panel being utilized over low roofs and at high walls, including at the apparatus bay where the roof reaches a height of nearly 40 feet above finished floor. CMU walls and trench drains at the apparatus bay allow for ease in regular washing of the station's fire trucks.





CHALLENGES:

The unique floor plan shape and proximity of columns to the foundation perimeter created a number of complex column base conditions where grade beams meet at odd angles. Specialty column base plates were designed by Pinnacle to accommodate these conditions. Also, the unique hybrid structural system required careful consideration of both wood shear walls and steel moment frames' contributions to the overall lateral stiffness of the structure. Eyebrow canopies on the north and south elevations of the building, over the overhead doors, were designed and constructed using galvanized, small-section, tube steel triangular truss frames welded back to vertical posts.
CONSTRUCTION TYPE:
The unique structural system for the fire station consists of a primary structural steel column and beam grid supporting wood stick framing and wood trusses at the roof. Thirty-six inch deep wide-flange beams serve as part of the main frames that cross the apparatus bay and brace the building against lateral forces and limit sway of the building in high winds. Structural steel was also used to frame the cupola on the southeast corner of the building and to support the wood-framed clerestory roof down the center of the apparatus bay. The mechanical and storage mezzanines, on either side of the apparatus bay are framed using plywood decking over light-gage steel joists.