La Porte Fire Station No. 3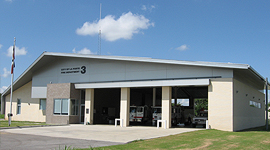 Owner: City of La Porte

Architect: Ray + Hollington Architects

Construction Cost: $1.5 million

Square Footage: 9,000 sq. ft.

Completed: 2006
DESCRIPTION:

In early 2005, the City of La Porte commissioned the design and construction of its third fire station, south of Highway 225 on Sens Road. The unique geometry and structure of the facility give it unique characteristics that set it apart from other such facilities of similar, relatively small size. Included in the design is a 3-stall apparatus bay, dormitories, kitchen and a day room. The unsymmetrical roof slopes, paired with the roof framing wrapping around the south end of the structure and extending vertically down near grade elevation, creates a modern aesthetic that the architect desired. The building also includes a 375 square-foot atrium over the recessed entrance to the building. Exterior cladding consists primarily of CMU block veneer and the roofing material is a standing seam metal panel system.



CHALLENGES:

The multi-faceted roof geometry created challenging details where it bends almost 90 degrees to descend toward grade. In excess of 6-foot cantilevered roof edges necessitated the use of moment connected channels at exterior columns that were placed within the purlin plane, to maintain a consistent roof elevation. Knee bracing was used in a number of locations to provide pseudo-moment-connections, particularly where beam flange widths exceeded column widths. A special bent plate assembly was designed to be anchored into the CMU backing jambs at the apparatus bay doors and bend through the vertical mortar joint to provide an attachment base for the door rails. This design left virtually no steel visible from the inside or outside, resulting in a clean look at the attachment.
CONSTRUCTION TYPE:
The structural system for this fire station consists of a primary structural steel column and beam grid with 8" Z-purlins spaced at 4 feet on-center at the roof. Steel rod bracing (3/4" diameter) was used in selected roof bays to provide in-plane resistance of lateral loads and distribute those loads to lateral-force resisting elements. This was particularly important considering the heightened wind requirements for La Porte, which is in a coastal county. The slope of the roof created a number of conditions where HSS tube beams were required to brace walls and carry masonry in a shelf angle capacity. Miscellaneous steel angles were used to frame eyebrow canopies over exterior doors. The mechanical mezzanine, that extends the width of the station, was framed with plywood decking over 12-inch deep light-gage joists, supported by 6" load-bearing studs.
gallery
© Photos Courtesy of Ray + Hollington Architects, Inc.