Baker Hughes Facility – Midland, TX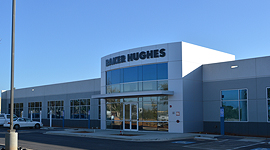 Owner: Baker Hughes

Architect: Energy Architecture

Square Footage: 46,000 sq. ft. combined

Completed: 2012
DESCRIPTION:
This project in Midland, TX consisted of three buildings serving office, storage, and industrial uses for Baker Hughes. The first building constructed (Building 'B') was a 32,000 sq.ft. office building housing secured storage with one overhead crane and a variety of office and workstation space. Once Building 'B' was complete, employees from an existing building were relocated here, and the existing office was demolished to make room for Building 'A'. Building 'A' is a 12,000 sq.ft. office/workshop combination with open office space, break and locker rooms, and two workshop bays with overhead cranes. This building was constructed immediately adjacent to an existing workshop with access between the two. Simultaneous to Building 'B', Building 'C' was constructed. Building 'C' is a 2,500 sq.ft. PEMB addition to another workshop on the same site.
CHALLENGES:

Building 'B' is a load-bearing tilt-wall structure with a curved and cantilevered entry canopy. The design of the entry area and it's connection to the tilt-wall was critical to maintaining the architectural elements. Additional complications arose from the combined office and workshop space when selecting an efficient column grid for offices adjacent to overhead cranes and resolving the drift and vibration concerns. Building 'A' is designed as a display workshop requiring the entire front of the building to be windows. Increased parapet heights at the corners and cantilevered canopies added to the complexity.
CONSTRUCTION TYPE:
Building 'B' uses its tilt-wall panels as load-bearing panels and for resistance to lateral loads. The roof structure is sloped and bent wide flange beams with bar joists to limit the amount of tapered insulation required. The bridge cranes are cantilevered off of building columns with wide flange and channel runway crane beams. Building 'A' is steel structure with tube and wide flange columns supported wide flange roof beams and bar joists. Lateral loads are resolved using a combination of braces and moment frames, while avoiding the abundance of front and side windows.