Artificial Lift Research Technology Center – Claremore, OK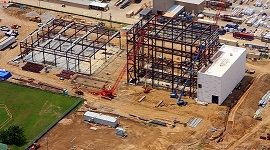 Owner: Baker Hughes

Architect: Energy Architecture

Construction Cost: $36 million

Square Footage: 82,000 sq. ft.

Completed: 2014
DESCRIPTION:
When Baker Hughes set out to build their Artificial Lift Research and Technology Center, they didn't mimic their existing R&D buildings, but built a state-of-the-art facility that could vault Baker Hughes to the forefront of the artificial lift technology race. The facility is made up of four distinct and interconnected buildings. The main testing facility is a single story one hundred and five foot tall high-bay crane-served test well room. The first level is approximately 12,000 square feet including three large test pits that are covered with concrete lids that make up part of the first floor. The framing at the top of the high bay was designed to support three 30-ton bridge cranes. On one side of the high bay there is a two story electrical building that also has a basement. On the other side of the high bay is a 28,000 square foot workshop that also has bridge cranes. The center piece of this facility is the two story office building on the front side of the high bay.
CHALLENGES:

The biggest challenge on this project was to frame the tall walls of the high bay. In order to not obstruct the view from the control and viewing rooms, the size of the structure in the walls had to be limited to a 14-inch depth. To accomplish this, two levels of horizontal steel trusses were utilized to laterally support the walls. The concrete lids presented additional challenges, as they had to be designed to support truck traffic and the roof structure had to be designed to support the cranes that lift the lids. In the electrical building the client wanted to have flexibly to modify openings at first level slab for future machinery. For this reason a non-composite steel floor system was chosen over cast in place concrete so that holes could be cut and steel beams could be easily added as needed to strengthen the floor.
CONSTRUCTION TYPE:
The entire structure was framed with structural steel with bar joists at the roofs. The foundation consisted of cast in place concrete with straight shaft concrete piles that extended into a hard shale layer. The basement walls were cast in place concrete and the first level above the basement was made up of a non-composite structural steel floor system and 10 to 12 inch thick cast in place concrete lids. The remainder of the first level was slab on grade. The office made use of a composite steel floor at the second level. The workshop was also constructed with structural steel.
The Artificial Lift Research and Technology Center was featured in the Tulsa World.