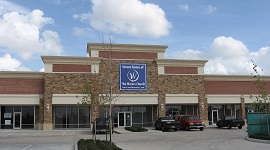 Owner: SPIF Katy, LP

Architect: Hermes Architects

Construction Cost: $3.2 million

Square Footage: 28,000 sq. ft.

Completed: 2007
DESCRIPTION:

his project consists of a one-story retail center in Katy, Texas, with a 3,500 sq. ft. pad site located at the front of the property. Both buildings are tilt-up and steel structures with glass storefront along the elevation facing Mason Road. The buildings include a 10-ft wide architectural setback that serves as a covered exterior corridor along the storefront. Steel columns were used to support the tilt-up panels along the front façade in order to reduce their width and create more opportunity for tenant window presentation. These column supports are clad in a dry-stacked stone, which was a primary exterior finish used for both buildings, along with stucco and storefront. Panel lugs were used to support the stone where it does not extend to the foundation.

CHALLENGES:

The owner did not want to have interior columns present in the retail space, so the design team specified long-span roof joists that kept the 64-ft clear span free of any vertical structural elements. We also used pockets in the tilt-up panels to reduce eccentric forces on the panels, reducing concrete and rebar costs at the panels supporting roof loads. The architectural design of the covered exterior corridor walkway at the front of the building required a return of the parapet walls toward the center of the building, so pipe stub columns supported off of wide-flange girders and roof joists were used to penetrate the roof and support diagonals which laterally braced the top of the parapet returns. Angle kickers were also used to brace the bottom of the parapet panels that terminated below the roof line.
CONSTRUCTION TYPE:
The building's structural system consists of structural steel and bar joists at the roof, supported by load-bearing concrete tilt-wall panels at the perimeter. The buildings were designed such that no lateral bracing was required, with the tilt-up panels providing all of the necessary strength and stiffness against wind loads. The roofs slope from front-to-back of the building and shed water in sheet-flow fashion off the rear of the roof. A 10-ft wide strip down both roofs were designed to support any typical 1,500 lb roof-top mechanical units required by future tenants. Miscellaneous steel framing was used to brace the top of all storefront elements which terminated above the ceiling/soffit lines.