WESTERN HEMISPHERE EDUCATION CENTER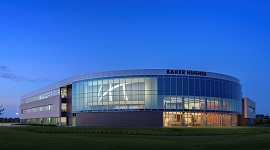 Owner: Baker Hughes

Architect:  Energy Architecture

Construction Cost:  $55.8 million

Square Footage:  134,000 sq. ft.

Completed:  2014
DESCRIPTION:

This project consisted of a new 98,000 square foot three-story education center, cafeteria, and training workshop located in Tomball, Texas. Fit with classrooms, laboratories, simulation rooms, and conference rooms, this world class facility will enable Baker Hughes to provide one of a kind hands-on training and product demonstrations to employees and customers. The education center is primarily clad with curtain wall paired with architectural metal panel, and with its unique geometry, this building has a truly captivating appearance.




The Western Hemisphere Education Center has been featured in the Houston Chronicle and the Houston Business Journal.
Below are links to articles about the education center:
CHALLENGES: 

Given the architectural complexity of the education center, several challenges arose in the structural design. The "L-shaped" plan of the building coupled with multiple roof planes and a two-story clear space separating each wing created a complex wind load analysis and lateral brace layout and design. In addition to the wide flange columns laterally supporting the curtain wall at the curved façade, these columns were also required to support a cantilevered balcony at mid-height of the clear space. There are also multiple monument stairs including one which is supported by a truss to accommodate the architectural design.
CONSTRUCTION TYPE:  
The majority of the structures on this project used conventional steel construction supported on under-reamed drilled piers, which are commonly used in the Houston area due to the presence of expansive soils. Composite steel construction was used at the elevated floors of the education center for economy and to limit structural depth. The training workshop utilized load-bearing tilt-up concrete panels with a conventional bar joists roof system. The workshop was also designed for future horizontal expansion and contains multiple five ton overhead cranes.