The Health Museum – Classroom Addition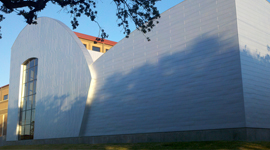 Owner: The Health Museum

Architect:  Ray + Hollington Architects

Construction Cost:  $0.9 million

Square Footage:  3,300 sq. ft.

Completed:  2011
DESCRIPTION:

As the primary entity for teaching young people about all things related to the human body, The Health Museum, located in the Houston Museum District, was in need of additional space for its classes.  A new classroom addition to the existing building was commissioned by the Museum for this purpose.  The addition also offered an opportunity to redesign the western façade of the building.  The modern design from Ray + Hollington passed through several iterations before a final design was chosen that met the programming needs while fitting within the Museum's budget.   A new switchback ramp was also added at the existing entrance on the west side of the building for handicap access.
CHALLENGES: 

The high-arching façade created parapet heights ranging from an average of 8-ft to a maximum of 20-ft above roof level.  The perimeter building structure was cantilevered above the roof level to provide adequate capacity to resist code-prescribed wind loads on the building.  With parking located below the building, the finished floor of the museum sits 4 to 5 feet above street level.  Paired with the proximity of the building to the street, this created the need for a concrete retaining wall to contain the building subgrade and prevent heavy grade slope away from the building.  Concrete pilasters were also used to supports columns and transfer loads to piers that were terminated near street elevation.  Miscellaneous steel was used to support the new operable partitions that allow staff to separate the classrooms.  This framing required special analysis and detailing as it is supported partially by the new structure and partially by the existing structure.
CONSTRUCTION TYPE:  
Due to the size of the project, and the complex geometry at the interface between the new and existing construction, structural steel was chosen as the primary structural material on the project.  The second floor mezzanine structure was constructed using composite steel beams and one quadrant of the mezzanine was hung from existing framing.  Detailed analysis was required to ensure the existing structure had adequate capacity to support the new mezzanine loads.  Structural tubing was used extensively at the new parapets to frame the complicated, rolling geometry while fitting within the stud dimensions.  Moment-connected tubes were also used to support the horizontal cantilevering façade that was added off the existing entrance structure.