Principals & Managers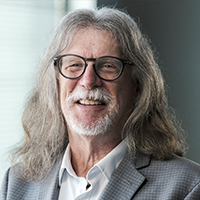 Donald L. Greive, P.E.
Don Greive, P.E. is one of the founding principals of Pinnacle Structural Engineers. Don's educational background includes earning a B.S. in Civil Engineering (Structures Option) from Rice University, an M.S. in Civil Engineering (Structural Engineering/Structural Mechanics) from the University of California – Berkeley, and an M.B.A. from the University of Houston. Don has thirty years of experience in structural engineering design and management, as well as overall project management on projects in which the structural engineer was the prime consultant. This experience, combined with an extensive amount of on-site construction review and his structural steel and rebar detailing during high school and college, gives him a unique point of view on projects.

When not working or spending time with his family, Don likely can be found at Rice University, where he has been active in a number of organizations, such as RAVA which conducts interviews with student applicants. In the spring, he will frequently be at Reckling Park (of which he is engineer of record) to support Rice baseball. Also, Don enjoys an occasional game of golf, where he hits just enough good shots to keep him going back.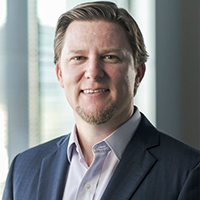 Adam J. Cryer, P.E.
Adam is a founding principal of Pinnacle with extensive experience in structural engineering design and detailing, project management, and construction administration. Adam's education includes attendance at Rice University, where he received his Bachelor of Science degree in Civil Engineering (Structures Focus), and at the University of Texas at Austin, where he earned his M.S. degree in Civil Engineering. Adam is licensed as a professional engineer in the states of Texas, California, Georgia, Louisiana, Michigan, New Mexico, Oklahoma, Pennsylvania, Washington, and Wyoming.

Adam has served as Engineer-of-Record on over 300 projects, including healthcare facilities, churches, schools, financial institutions, retail centers, and office buildings. He has also performed analyses on a variety of existing structures to determine capacity and performance characteristics and subsequently provide recommendation for remedial work.

Adam also volunteers his time as a Director and mentor with ACE Houston, a non-profit organization that introduces high school students to the AEC industry. Beyond the office, Adam enjoys golfing, bowling, and playing the guitar. He and his wife Sarah try to attend as many Houston-area food and wine festivals as possible and they have 2 puggles (pug/beagle mix) and a lab that keep them sufficiently entertained while at home.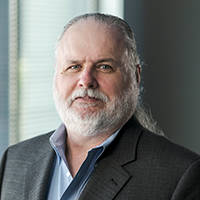 David E. Jones
David joined Pinnacle as a principal, to head up the drafting department in early 2006. He attended San Jacinto College and graduated with an Associate of Applied Science degree. He brings with him over twenty-five years of experience in the production and design of structural engineering documents, including fifteen years in a leadership role and twenty years as a CAD Designer. He is experienced in many types of construction for a multitude of buildings, including schools, churches, office buildings, hospitals and renovations.

When not at work, David can be found in his backyard barbecuing for his friends and family. He also can be found every Thursday night at the local bowling alley where he has been a league bowler for twenty years.
Peter K. Dean, P.E.
Pete joined Pinnacle as a project manager in April of 2011 and was promoted to Senior Vice President in January of 2019. Pete has received degrees from the University of Delaware (Bachelor of Civil Engineering, May 2003) and the University of Texas at Austin (M.S. in Engineering, May 2005). Pete's work experience includes time with an AE firm specializing in parking structures, and years designing wood framed multi-family developments and mid-to-high rise concrete structures. Pete is proficient in many analysis software programs as well as BIM software, such as Revit Structure.

Since joining Pinnacle, Pete has successfully completed projects in the office, industrial, worship, multi-family, and adaptive reuse sectors, among others. Pete's solid theoretical background and diverse experience make him a key member of our team.

Pete is also an adjunct professor at the University of Houston in the College of Architecture and Design, teaching structural engineering concepts to third-year architecture students. Pete likes to spend his free time with his wife, son, and daughter. Most weekends you can find Pete and his family enjoying their central Houston neighborhood, especially the Hermann Park Zoo and Museum of Natural Science.
Heath H. Michel, P.E.
Heath joined Pinnacle as a Graduate Engineer in August of 2011, was promoted to Project Manager in August of 2014, Senior Project Manager in February of 2018, and Vice President in January of 2020. Heath received his Bachelor of Science in Civil Engineering from the University of Louisiana at Lafayette in December of 2010 and his Master of Civil Engineering degree (Structural Focus) from the University of Houston in December 2012. Heath is licensed as a professional engineer in Texas and Louisiana and manages Pinnacle's Louisiana office in Lafayette.

Heath's experience includes the design of schools, offices, churches, industrial facilities, and a significant number of tilt-up warehouses totaling approximately 14 million square feet.

Heath is also a member of TILT (Tilt-Up Industry Leaders of Tomorrow), the young professionals' collaborative launched by Tilt-Up Concrete Association (TCA), and also serves on the Civil Engineering Advisory Board for his alma mater, ULL. Heath enjoys spending time with his wife and two boys on their many adventures, rooting for his favorite sports teams (the Astros, Saints, and Ragin' Cajuns), entertaining his family and friends, and trying any craft beer he can get his hands on.